Slideshow
Other top rated products
4.9 star rating
4.9
9 Reviews
Meyer Lemons
Review by Kenny H. on 10 Jan 2020
review stating Meyer Lemons
Ordered 10 pounds and when they arrived, I ate 3 in a matter of like an hour, and what can I say, best lemons a person could want. Not too tart like a regular yellow lemon, these are awesome.
We ordered the 10 pounds
Review by Julia Q. on 13 Nov 2019
review stating We ordered the 10 pounds
We ordered the 10 pounds of Meyer Lemons. They were so juicy and just as I remembered and expected. Very satisfied. Thank you.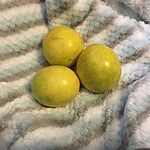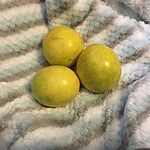 10# Meyer Lemons
Review by Murray g. on 16 Feb 2020
review stating 10# Meyer Lemons
Quick delivery, good price on fruit and shipping, responsive customer service.
Excellent quality fruit.

Thank you
Danielle A.
5 star rating
Scrumptious!
Review by Danielle A. on 10 Feb 2020
review stating Scrumptious!
I can't believe I made it to middle age without ever tasting a Meyer Lemon, and thank goodness that has changed! These amazing, tart, tangy, but not bitter, lemons are incredible. I squeeze them in my water, my tea, my salads, in my oatmeal...Yes, my oatmeal, and I even include the fruit. They are delicious and packed with Vitamin C to help during cold and flu season. I love the various size and shape of them, as knowing they are not genetically altered is of high importance to this consumer. I was worried 10 lbs would be too much, but I've shared (a few:) and store each in a ziplocked bag in my refrigerator. It's been 4 weeks and they are as fresh as the day they arrived. Treat yourself and place an order!
As big a grapefruit!
Review by Big F. on 11 Jan 2020
review stating As big a grapefruit!
While I won't say they are as wonderful as the ones I would pick fresh off grandma's tree, I will say it was like picking off grandma's neighbor's tree:-) They arrives in excellent condition. They are huge! Some are as large a grapefruit. The skins are mostly super smooth and blemish free for candy making. And they are super juicy. The photos are accurate. I think now that grandma is gone, I'll be ordering from US Citrus.