Slideshow
Other top rated products
4.9 star rating
4.9
107 Reviews
Great Gift Idea
Review by Rob M. on 9 Oct 2019
review stating Great Gift Idea
I ordered this Meyer Lemon as a gift for a new neighbor who just moved onto our street. I can't wait to give it to them!

Whether you are a realtor, a friendly neighbor, or just a citrus/gardening enthusiast, a citrus plant from US CITRUS is a great way to say "Thank you", "Welcome", or "Congratulations". And with free shipping, you can send your citrus sentiments just about anywhere (except FL, CA, AZ, or LA).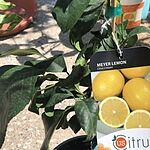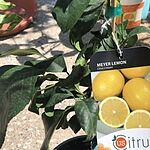 So far so good!
Review by Hema P. on 27 Jul 2020
review stating So far so good!
The lime tree was gorgeous and healthy. The leaves were healthy looking on the lemon and the clementine tree as well. The clementine was smaller than expected, but I'm sure it will eventually grow. Customer service was great answering questions. Overall a wonderful experience. I've attached a picture of the clementine tree next to the lime tree.
All the steps you need
Review by Aja U. on 26 Jul 2020
review stating All the steps you need
I am in love with my lemon tree. It came in great condition and the handbook was a great help. I don't have a green thumb, but my tree is thriving.
So far, so good. Beautiful
Review by Lynda H. on 26 Jul 2020
review stating So far, so good. Beautiful
So far, so good. Beautiful plant and arrived in perfect condition.
Elizabeth C.
5 star rating
Very satisfied with the Meyer
Review by Elizabeth C. on 26 Jul 2020
review stating Very satisfied with the Meyer
Very satisfied with the Meyer lemon tree I purchased
Q: Jam undecided between the Meyer Lemon and the Eureka lemon. Which is preferable to use for the rind in recipes? Thanks!
A: That's a great question! I think since Eureka lemon's are more readily available I would go with the Meyer lemon. Also, the Meyer lemon tree once it is maturing bearing fruit will give you multiple harvest throughout the year so that will give you an advantage.
Q: Hi i just purchased 2 Meyer trees and i plan on putting them both in 15 gallon pots and I'm totally new and growing. Do you have any recommendations on specific soil and fertilizer types i should use to put the trees into once they arrive? Any help is greatly appreciated. Also would you recommend just extracting the plant out of the bucket that it comes with and immediately putting it into the 15 gallon pot with soil or should i wait a period? Thank you for your time
A: Really appreciate your question! First of all, don't worry your trees will come with a fully comprehensive care guide the answers all of these questions plus anything else that is needed from growing.

For soil: we recommend just a regular potting mix that will do very well!

For fertilizer: we prefer Nelson's plan food we like that balance and we have fertilizer schedules printed in our care guide.

With regards to re-potting: it is excellent to transplant your tree so that the roots can really go out. However there is no hurry, your tree will do very well for many months and its current pot.

I hope that helps!
Q: How large will this tree grow? I will need to bring inside because I live in Western NY. Not sure about stock it is grafted to.
A: Thanks for the question! Our trees get 7ft + in large pots. You can keep it pruned 2-3 times a year down to 2-4 feet as you desire. None of our trees are of 'dwarf' varieties, but you just prune them back!